Accommodation at EMAC Negotiated Conference Rates. Breakfast included.
Nordic Choice Hotels
Nordic Choice Hotels is located in over 100 destinations.
Nordic Choice Hotels contains of 3 different chains. Two of them offered to you at EMAC2016:
Comfort Hotel® - Pretty Damn Good
Good hotels in good locations at a good price. We could have stopped here, but we have more to say. Urban, accessible, timely, low profile, high efficiency, all packed together in a good deal. You get everything you need, and we have dropped some of the things you do not need. Simple and easy!
 
Clarion Hotel®  - Clarion Hotels are international full service hotels offering modern living meetings in attractive areas for curious and conscious traveler.
With energy, courage and enthusiasm, we create a better world. WeCare!
Choose a Nordic Choice hotel for your stay at EMAC2016. All Choice hotels are within 10-20 min. metro or busride from BI (conference venue)
---
---
Thon Hotels
Thon Hotels is one of the leading hotel chains in Norway with more than 65 hotels all over the country.
By offering a warm and welcoming atmosphere in the hotel and a high level of service, we will give our guests a positive hotel experience every time they stay with us.
As our guests travel on different budgets, we have developed three concepts which will make it easier to choose the right hotel:
Budget – Smart, simple and modern hotels offering you affordable accommodation
City – City center comfort hotels, perfect for the business traveler
Conference – Professional conference hotels with all facilities
For EMAC 2016 the organizer has picked 4 hotels in the City concept (Thon Hotel Terminus, Munch, Spectrum and Gyldenløwe) and 2 hotels in the Conference concept (Thon Hotel Opera and Ullevål Stadion).
All hotels are close to public transport that easily brings you to the conference venue. Travel time 10-20 min. by metro or bus to BI (conference venue).
---
---
Radisson Blu Hotel Nydalen
Alongside the Aker River, the Radisson Blu Hotel Nydalen in Oslo offers a premium location in the city's popular business district. The hotel is across the street, 2min walk, from one of Norway's largest academic institutions, Bl Norwegian Business School.
It affords easy access to the city center as well as to Oslo Airport Gardermoen. All 185 contemporary rooms feature attractive amenities such as minibar, free high-speed wireless internet, in-room safe and work desk. Convenient on-site dining in our brand new N 33 Restaurant & Bar and our excellent room service menu ensures a seamless stay. Guests can recharge with a workout at Evo Fitness next to the hotel. Oslo city center is only 12 minutes away by metro.
---
---
Alternative accommodation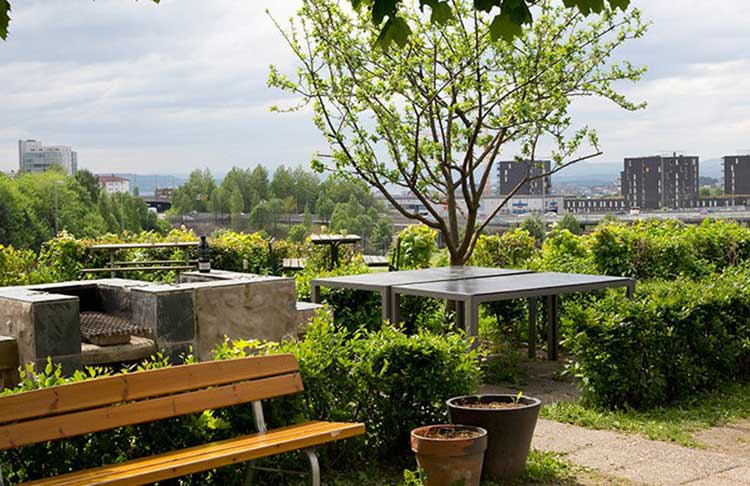 There are alternative accommodation in and around Oslo.
Are you looking for comfortable and affordable accommodation in Oslo you have come to the right place. We are located in the city centre, between Oslo's busy main street Karl Johan and Grünerløkka's young and trendy urban life.
Haraldsheimen Vandreerhjem (Oslo Hostel Haraldsheim)
Haraldsheim is located 4 km from downtown Oslo, in safe and attractive surroundings with a splendid view of the city and the fjord. Haraldsheim Youth Hostel is an ideal starting point for seeing Oslo's sights and for forest treks both summer and winter. We offer free parking for cars and buses. "The Hostelling International vision: We aim to promote intercultural exchange, social learning and care for the environment by making HI hostels the best, most welcoming and inspiring places for travellers to stay" Use your HIhostel membershipcard in Haraldsheim.
Airbnb Oslo Norway
Airbnb offers a range of accommodation possibilities in Oslo. Check it out at the website.
---
---